IoT solutions that are integrated into your everyday operations can make them smarter.
IoT services for your enterprise can help you get more out of your data to improve operational efficiency. You can now create a low-maintenance resilient system that is smarter and more responsive to your needs.
IoT solutions and services that help your business improve customer and employee interactivity with systems.
If you use smarter internet of things solutions from Voxsim Communications, you can see your business change dramatically, rather than just seeing small changes in individual systems. Help your business move into the future by using IoT solutions that greatly improve performance through predictive analysis and operations, which can reduce costs.
Our cloud partners offer IoT services that can help your business stay ahead of the competition.
Voxsim Communications MOVE™ global IoT solution
The MOVE™ Global IoT Solution from Voxsim Communications provides cellular connectivity that is smooth and uninterrupted across borders, allowing for international IoT services to be delivered effectively and efficiently.
Voxsim Communications MOVE™ eSIM hub
The MOVE™ eSIM from Voxsim Communications enables you to embed connectivity without a physical chip, and also to reprogram SIMs over-the-air (OTA) for millions of devices simultaneously.
India IoT solutions
Voxsim Communications has a presence in India and strong partnerships across the IoT value chain, which allows it to offer pan-India IoT solutions.
Get trusted IoT for business operations with a connected system.
Our IoT Solutions are the best choice for your business for many reasons.
Flexible efficiency
The best enterprise mobility management solutions will be able to adapt to your changing business needs and the ever-changing landscape, while still being affordable and keeping your best interests at heart.
Single dashboard access
If all your mobility services are managed through one control panel, your business will have a better understanding of its operations and be more efficient.
Workspace transformation
If you're looking to stay ahead of the curve, remote working is a great way to do it. With mobility services that help you choose when and how your business transforms to fit the future, you can be confident about transforming the way your organisation works.
Device management
Asset security is a necessary part of organizational administration, and choosing the right enterprise management mobility solution can help ease the burden on manual operational limits.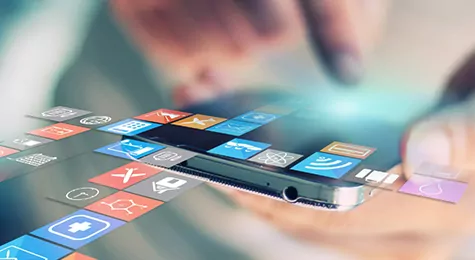 Links Field Networks and Voxsim Communications are partnering to enable IoT modules with integrated bootstrap connectivity around the world.
Our IoT Solutions automated the environmental controls of this global consulting organization's data centers, making the process more efficient and reducing energy costs.
The eSIM provides users with a more convenient way to connect to the internet and access their data.
Get transformational mobility services with just a click.